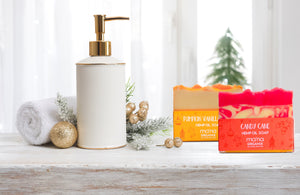 ❄️🎅🏼🎄Holiday Limited Edition Double-Pack of Hemp Oil Soaps: Candy Cane & Pumpkin Vanilla Spice Hemp Oil Soap❄️🎅🏼🎄
---
The holiday season gives us the best and unforgettable scents, being these instant indicators that the holiday season has arrived, that's why we have created for you the Christmas soap set of assorted Pumpkin Spice Vanilla and Peppermint Candy Cane, for these to be part of you in the most wonderful time of the year.
This warming christmas blend remind us of coziness, holiday baking and thanksgiving time with the family it is the perfect way to spice up your fall - winter season.
Live the spirit of the season with our ultimate holiday bath products and enjoy the  irresistible blend of vanilla pumpkin and peppermint scents, decor your bathroom with winter hints.
In addition to its exquisite aroma, the ingredients has many benefits for your skin care such as pumpkin whose extract helps smooth, firm and improve elasticity and skin tone while peppermint ingredient is rich in Omega-3, Magnesium and Vitamin A that will remain your skin healthy.
This is the perfect Christmas present for your loved ones, we guarantee that this will be your favorite holiday soap, don't miss it!
---
---