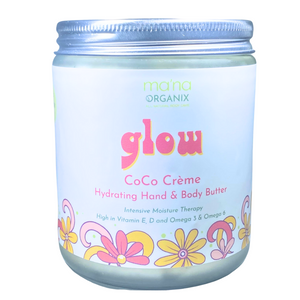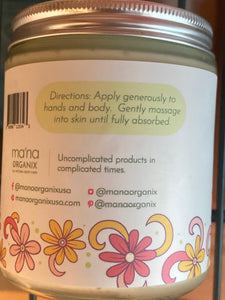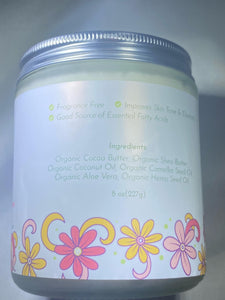 Ma'na Organix
glow Coco Créme Hydrating Hand & Body Butter with Hempseed Oil - Intensive Moisture Therapy for All Skin Types (8 oz / 227 g)
Regular price
Sale price
$22.99
---
🌿100% NATURAL & ORGANICALLY-SOURCED HEMPSEED OIL: Perfect sulfate-free and parabens-free option to avoid harmful chemicals; highly Nutritious for skin, protecting to fight dryness and oxidation, the main causes of aging. Rich in minerals like potassium and calcium, containing high levels of Vitamin A, C and E, important for body tissue.
🌿 Natural & Nutrient-Rich Hydration: Experience the harmonious blend of organic Cocoa Butter, Shea Butter, Coconut Oil, Camelia Seed Oil, Aloe Vera, and Hempseed Oil. This extraordinary fusion delivers natural, nutrient-rich hydration that deeply nourishes and pampers your skin. Whether you're looking to maintain your skin's health or indulge in a spa-like experience, our "glow Coco Créme Hydrating Hand & Body Butter" offers an unmatched level of care and luxury.
🌿 Vitamin-Enriched, Fatty Acid-Powered: Packed with Vitamin E, D, and Omega 3 & 6, this hand and body butter provides your skin with essential nutrients and is a natural source of essential fatty acids, promoting skin nourishment and overall well-being.
🌿 Intensive Moisture Therapy: This hydrating hand and body butter offers intensive moisture therapy for all skin types. It deeply nourishes and revitalizes your skin, leaving it soft, smooth, and rejuvenated. Whether you have dry, sensitive, or normal skin, this rich, fragrance-free cream is a go-to solution to improve skin tone, enhance elasticity, and maintain a healthy, radiant complexion. Embrace the power of organic and natural ingredients for an indulgent skincare experience.
🌿 All Skin Types: Whether you have dry, sensitive, or normal skin, our Coco Créme Hand & Body Butter caters to everyone, offering intensive care and hydration.
Our glow Skincare products clean and moisturize without removing natural oils that are essential for your skin. Their nutrients and properties keep epidermis hydrated showing its natural glow. Great for daily use to keep your skin silky, smooth, and soft while also being gentle to the planet.
The Organic-Certified Hemp Oil used in all of our products is NON-PSYCHOACTIVE
Experience the ultimate hydration with Ma'na Organix's glow Coco Créme Hydrating Hand & Body Butter. Our intensive moisture therapy is specially formulated to revitalize and nourish your skin. Enriched with a unique blend of organic ingredients, this fragrance-free butter caters to all skin types, leaving you with improved skin tone, enhanced elasticity, and a radiant, healthy glow.
Directions: Apply generously to hands and body. Gently massage into skin until fully absorbed.
Ingredients:
Organic Cocoa Butter: Deeply moisturizes and hydrates the skin, rich in antioxidants that help fight free radicals, promotes skin elasticity, and reduces the appearance of stretch marks.
Organic Shea Butter: Offers intense hydration and locks in moisture, contains vitamins A and E for skin nourishment, reduces inflammation, and soothes skin irritations.
Organic Coconut Oil: Provides natural hydration and prevents water loss, contains fatty acids that nourish and repair the skin's barrier, promotes a healthy, radiant complexion.
Organic Camellia Seed Oil: Rich in oleic acid, an omega-9 fatty acid, for deep moisturization, soothes sensitive and irritated skin, enhances skin elasticity and texture.
Organic Aloe Vera: Offers cooling relief and reduces skin inflammation, contains vitamins and minerals that support skin health, helps soothe sunburn and skin irritations.
Organic Hempseed Oil: High in Omega-3 and Omega-6 fatty acids for skin nourishment, regulates skin oil production, suitable for all skin types, reduces inflammation, soothes dryness, and supports overall skin health.