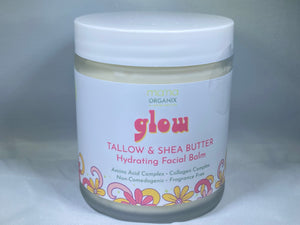 Ma'na Organix
All Natural Organic 100% Grass Fed Tallow & Shea Butter Hydrating Facial Balm
Regular price
$26.99
Sale price
$24.99
---
🌿100% NATURAL & ORGANICALLY-SOURCED GRASS FED BEEF TALLOW:
Non-Comedogenic
Amino Acid Complex | Collagen Complex 
Made with Organic Grass Fed Beef Tallow | Rich in Taurine, Conjugated Linoleic Acids & Omega 3  
*Complies with animal welfare standards for animal proteins
Fragrance Free
Perfect sulfate-free and parabens-free option to avoid harmful chemicals; highly Nutritious for skin to fight inflammation, oxidation and irritation, the main causes of aging. Rich in minerals like potassium and calcium, containing high levels of Vitamin A, C and E, important for body tissue. 
🌿 ECOFRIENDLY AND SUSTAINABLE: Our mission is to take good care of you while being gentle with the environment and animals, that's why we only use organic-certified and eco-friendly ingredients (palm oil free, vegan). We also use biodegradable non-plastic packaging to prevent landfill buildup and helping reduce plastic waste. Great for your skin and the planet.
🌿 HIGH QUALITY AND HANDCRAFTED: All of our bath, body, and hair products are handmade with natural, vegan, and high-quality ingredients that are effective and gentle to you and the planet. Our vibrant natural scents, curated by Ma'na Organix, will leave you feeling refreshed and invigorated. 
🌿 NUTRIENT RICH INGREDIENTS: Composed with highly nutritious ingredients, such as 100% Organic, Grass Fed Beef Tallow, Organic Shea Butter, Organic Camellia Seed Oil, Organic  Hempseed Oil, Organic Calendula Oil, Organic Jojoba Oil and Organic Aloe Vera.
SUGGESTED USE: Apply as needed morning and night to clean skin for a plump, dewy glow.
4 OUNCE GLASS JAR 
INGREDIENTS:
100% Organic Grass Fed Beef Tallow: Amino Acid Complex, Collagen Complex Rich in Taurine, Conjugated Linoleic Acids & Omega 3 
Shea Butter: ideal cosmetic ingredient for softening, conditioning, and toning your skin
Hemp Seed Oil: Rich in Omega 3, Omega 6; Linoleic Acid Complex
Camellia Oil: rich source of Palmitic and Omega-6 Linoleic fatty acids, and numerous anti-aging antioxidants
Calendula Oil: has antifungal, anti-inflammatory, and antibacterial properties
Jojoba Oil: is a natural antimicrobial, full of nutrients like Vitamin E and B and has an hydrating action that soothes sunburn and helps reduce the chances of peeling
Aloe Vera: Reduces puffiness and under-eye circles, Improves complexion, skin tone and acne